A Bear's Tail (stylized as a Bear's Tail) is a television sitcom, written by Leigh Francis. It is a spin-off of Bo' Selecta!, centering around the Bear. One series was aired in 2005. But unlike Bo' Selecta!, Leigh Francis clearly made out who he really was, and that Avid Merrion wasn't his real name, nor his real voice or manner. It is clearly revealed on the Video Diaries found on the official website.
The show features the Bear as being adopted by the Hennerson family. Other characters made appearances (including some of the characters from Bo' Selecta!), such as Craig David, Mel B, and Avid Merrion. It often broke the fourth wall, with the scriptwriter living in a cupboard under the stairs. According to the DVD commentary, the first scriptwriter (Nick Moran) was changed to Dexter Fletcher because it was felt that, as good an actor as he is, Moran brought too much intensity to the role, and Fletcher was easier to warm up to.
Even though it achieved reasonable ratings, the series wasn't as successful as Bo' Selecta!, and not the hit that Channel 4 had hoped for. Only one series was produced, even though some believe that only one series was ever planned anyway, as the pilot and 6 episodes are a self-contained story-arc, and everything is wrapped up in the final episode, leaving little room for expansion.
The show was released on PAL DVD during 2005, including a host of extras.
Regular cast
Edit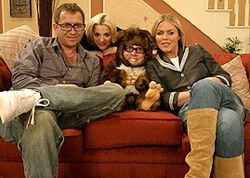 Episode Guide
Edit